Compare / Shortlist - Instructions
Compare accommodation units
If you wish to compare accommodation units in order to make the final decision more easily, use option "Compare accommodation units".
In search results, you can tick checkboxes near accommodation units and they will be saved automatically to your shortlist. You can do the same by clicking the "Compare" button in presentation of each accommodation unit.
When all units for comparison are selected, you can click on the toolbar above the search results or on the top of the site near the button "Compare".
In order to compare prices and availability, you need to enter your date of stay and the number of persons.
If you wish to sort the units according to your priorities, you can click the arrow icon and move selected units.
Accommodation unit which suits you best can be booked on the Compare page itself, by clicking the "Book now" button. You can also save it to your Shortlist.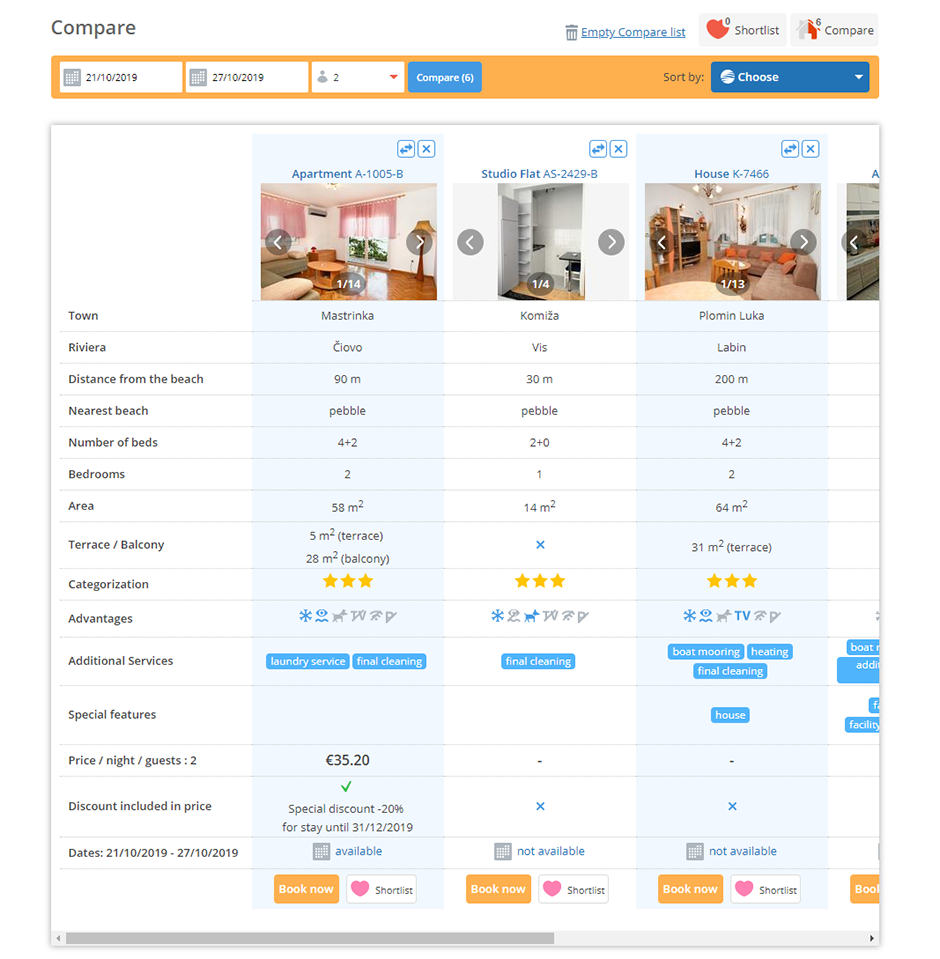 Shortlist
If you wish to save facilities you like before making final decision on booking, you can use this option "Shortlist".
Register on Adriatic.hr website so that you can easily access all the apartments from your Shortlist. You won't have to log in to access your Shortlist, but you will not be able to access it from another computer.
After entering your desired parameters, a list of matching facilities will be displayed. The Shortlist button will already be there but you can find it in the detailed presentation of a facility as well - all you have to do is click it and your choice will be saved.
When you finish your search, you can open saved facilities by clicking Shortlist in the orange toolbar at the top. If a page with search results with displayed property list is opened, you can find Shortlist toolbar through which selected facilities are accessible.
If you wish to compare accommodation units from Shortlist, you can use the "Compare" option, and you'll be shown a table where you can easily observe the differences among apartments.